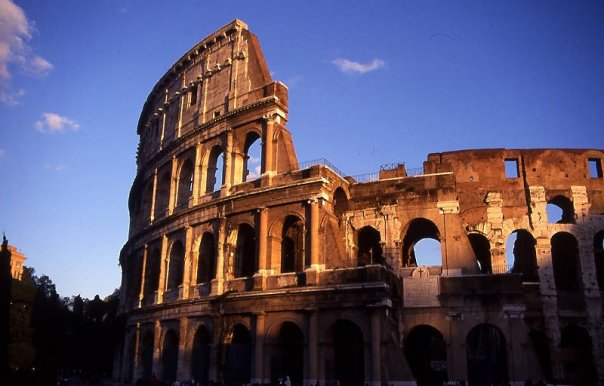 Je vous en ai déjà parlé précédemment, IBM organise cette année sa conférence utilisateurs du 19 au 21 mai à Rome pour l'activité Information Management. L'offre ECM entrant dans le « brand » Information Management, vous pourrez donc assister à un programme complet de sessions métiers comme techniques.
Si vous n'êtes pas encore inscrit(e), voici la liste des ateliers techniques pour finir de vous décider (!), notez également qu'il vous sera possible de passer les certifications sur place. Une offre réservée aux inscrits vous permet de vous certifier sur 3 produits (dont Cognos) gratuitement (amis partenaires, ceci peut vous intéresser).
Voici donc la liste des sessions techniques ECM (attention, une de mes plus longues notes !!) :
2764 : Social Computing: Communities and Process with Quickr Connections and ECM
Abstract:  How can your team work together more creatively and effectively? How can solving problems together improve your business? Get your hands on the latest in Social Computing with Quickr Connectors and the FileNet P8 platform. See how teams can create new ways to work together and optimise your business.
2785 : Hottest, Newest Storage Appliance: IBM Information Archive
Abstract:  The IBM Information Archive is the newest of IBM Storage Appliances designed to be seamlessly integrated with IBM ECM products such as FileNet P8, Content Manager 8, Content Manager OnDemand, Optim and many more. Learn how easy it is to integrate your ECM solution with the Information Archive appliance and benefit from it's cost efficient scaling model. Understand core features of the Information Archive such as integrated Monitoring and Reporting, Backup and Recovery, High Availability, Disaster Recovery and 'Call Home' Remote Support. Learn how Information Archive can offer compliance and non-compliance storage on the same appliance and how data is stored securely and tamper proof.
2786 : Best Practices: Storage Technologies relevant for ECM Workloads
Abstract:  Learn how to translate workload scenarios and business requirements (such as recovery point and time objectives) into a storage technology recommendation. Understand differences of various SAN and NAS storage offerings and what to watch out for when choosing compliance storage. Learn how storage technologies such as FlashCopy and Global/MetroMirror can resolve business continuity requirements. Understand what backup technologies exist for continuous availability and how to configure ECM components such as DB2 to take advantage of modern storage server capabilities. Learn how the latest in Cloud Technology such as Cluster Filesystems can help you reducing storage costs and getting the most of your existing storage infrastructure.
2816 : ECM Product Strategy Roadmap
Abstract:  The ability to make decisions better and faster is a competitive advantage that IBM Enterprise Content Management (ECM) solutions provide. IBM ECM improves workforce effectiveness by enabling organisations to transform their business processes and case management, access and manage content, secure and control information related to compliance needs and optimise the infrastructure required to deliver content anywhere at anytime. In this presentation, you will learn the latest strategy and vision for IBM ECM and how companies are transforming their business. In addition, we'll demonstrate how new IBM ECM technology and solutions can help you maximise your current investments by reducing costs and improving efficiency.
2821 : Information Lifecycle Management of SAP Data with CommonStore for SAP
Abstract:  IBM CommonStore for SAP V8.4 provides a new type of integration with SAP, the WebDAV ILM interface for data archiving and life cycle management. This session describes the evolution of SAP's data archiving infrastructure with a specific focus on SAP WebDAV ILM. It covers the difference between data and document archiving from a lifecycle management perspective and its significance for business data. This session also gives an outlook on how SAP's Life Cycle Management for data and IBM Records Management could coexist.
2829 : Performance Optimisation for IBM FileNet P8
Abstract:  Is your P8 environment performing at its best? This is a question we have heard many times from our customers – and in this session you will learn how to find out. Performance is a major factor for an efficient operation and the foundation for a good quality of service. We will present you the methodology and tools to collect key performance indicators from your P8 environment, how to organise and interpret them. You will get a complete picture on performance critical factors – from disks, network and CPU via database and application server up to the FileNet P8 layers. We will also show you the key findings from our customer reviews.
2830 : ECM with Websphere Portal and WCM – Integrate and publish to your Website
Abstract:  Out-of-the-box features such as Document Picker deliver integration capabilities with FileNet Content Manager, IBM Content Manager. Using a single Web User Interface, you can easily integrate with these Enterprise Content Management (ECM) solutions, thereby, leveraging existing investments to reduce integration costs. Web Content Integrator allows you to consume content from any ECM solutions. This will enable you to use Lotus Web Content Management as a single Web site publishing system to manage the Web customer experience for different content types.
2866 : ECM Enterprise Reference Architecture and a Phased Approach to What's Next
Abstract:  Organisations require an architectural model for ECM services that meshes with their broader enterprise reference architecture. The goal is to provide a high-level strategic vision for transforming the business through information that translates into a roadmap for real-world implementation and management.The Enterprise Reference Architecture for ECM takes a standards-based, services-oriented view that promotes re-use, offers the flexibility to adapt to changing requirements, leverages existing technology investments, and provides guidelines for new technology investments.Organisations that embrace this type of architecture are able to measure their progress against achievable milestones and correlate success directly with business benefit.
2874 : Live Production Document Imaging with FileNet Content Manager
Abstract:  Organisations live and breathe in a sea of paper. An imaging system allows you to create electronic documents that can be queried, viewed, printed or faxed from desktops throughout the organisation while images retain their original look and feel This session will lead the participant through the major components of a high-volume production document imaging system based on IBM FileNet P8 Content Manager and related IBM products. Via demonstration of a real world use case, documents will be captured, store, cataloged, and a workflow process launched to process the documents. Document inquiry and viewer capabilities will also be shown. Warning, no Powerpoint slides will be displayed during this session.
2893 : Backup and Disaster Recovery for IBM FileNet P8
Abstract:  IBM FileNet P8 administrators have only been able to take advantage of general backup and DR guidelines for P8 until now. This session draws on content and insight from the recently completed P8 Backup and Disaster Recovery Redbook. Topics will include: Backup types and options Data relationships and dependencies What to back up, and in what order Partial restoration Post-restoration/disaster validation Data replication and bunker sites Alternate strategies Gary Allenbach, Worldwide ECM Architect, was part of the team that wrote the Redbook, and will deliver this session.
2895 : Business Continuity best practices for IBM Content Manager V8 Solutions
Abstract:  The business continuity of Enterprise Content Management solutions relies on their capability for being resilient against component failures. This session will cover the topics of planning backup and restore, high availability and disaster recovery in the context of business continuity for the IBM Content Manager V8 server based ECM Solutions. Based on customer scenarios it will be discussed how real production environments implement and deploy high availability disaster recovery services with the IBM Content Manager 8 product stack.
2942 : Email Archival – Best Practices & Industry Examples
Abstract:  This session will give industry examples of the best practices for managing email archival. It will discuss the tradeoffs of mailbox vs. journal archiving, appropriate uses of records management and options for eDiscovery and analytics. Common use cases and examples will be used throughout the presentation.
2950 : Developing Agile ECM Widgets for IBM FileNet P8
Abstract:  The IBM FileNet P8 4.5 suite provides a standards-based set of extensible pre-wired ECM Widgets that provide key process and content functionality. In this session we will extend these capabilities by presenting a technical discussion of design, development and deployment of custom ECM Widgets. We will discuss the architecture, development and deployment of FileNet P8 Content based iWidgets using an Eclipse based IDE, the Dojo Java scripting framework and a custom REST API, followed by a demonstration of 2 such widgets that were developed using the above framework. The out of the box ECMViewer widget will also be used to demonstrate how user developed widgets can be easily wired with an out of the box widget to enhance widget reusability.
2958 : Operating FileNet P8 as an enterprise ECM platform
Abstract:  VR Kreditwerk (http://www.kreditwerk.de/) uses FileNet P8 as its enterprise ECM and BPM platform to improve operational efficiency and customer service in its main business areas home savings and loan contracts. More than 3000 employees rely on the availability and reliability of this ECM platform. The presentation will show how VR Kreditwerk uses the BPM capabilities in the loan origination and loan processing and the ECM capabilities in document archiving, SAP archiving and email archiving. The speakers will talk about the architecture design of the platform and how they use IBM FileNet System Monitor to deliver the Service Levels requested by the lines-of-business.
2991 : IBM ECM Client and RAD Strategy
Abstract:  This session will outline the IBM ECM Client strategy. It will include an overview of the technical strategy for Rich Internet ECM clients, realized using AJAX and Widgets. This will include details on how existing LOB applications can be extended with ECM. It will also outline the client strategy for collaboratively oriented content, including desktop integration and integration with Sharepoint and Quickr. The talk will include representative solution examples, and illustrate how easily these solutions can be tailored.
3012 : Managing mulitple Lines of Business at BSKYB with ECM. Why Pull when you can Push Work?
Abstract:  This session will: Discuss Sky's use of FileNet from 'go-live' and how it evolved from managing a single product to multiple product lines of business. Discuss plans to progress skills matrix management and view of inbasket to allow rapid re-alignment of resources to cope with volume of cases in any product area at any time Discuss plans for the further use of FileNet and its integration with Chordiant Share the system architecture diagram and metrics on usage, from both a user and case perspective Share the project's timeline and required skils Demonstrate the benefits of the implementation
3027 : How to Benefit from Advanced Classification using IBM Classification Module
Abstract:  Hear a technical introduction to IBM's content classification product. Understand how the IBM Classification Module analyses texts and learns by example via methods such as natural language processing and the semantic analysis. After the introduction to its methods, we'll discuss how Classification Module uses these capabilities to filter and categorise content for applications in content collection (email and other electronic information), records management and as part of business processes. Hear about the new features in release 8.7, an outlook on further enhancements and recognise the benefits of integrating ICM into other ECM and non-ECM products.
3038 : ECM z/OS Birds of a Feather
Abstract:  Discuss ECM on the z/OS platform. Bring your questions, concerns, issues, and we will discuss as a group.
3081 : IBM ECM for Office Document Management, Improve Productivity & Reduce Costs
Abstract:  Regardless of the tools used, organisations must feel confident that knowledge workers are using trusted content – the right versions with the right meta-data. And organisations want to leverage existing investments in feature rich desktop productivity and collaboration tools for content creation. IBM ECM for Office Document Management provides knowledge workers with the ability to work in well-known desktop and collaboration environments to create trusted content, improve document discoverability, classification, security and governance. Join us in learning how IBM ECM for Office Document Management activates trusted office content so it can be used in composite applications that leverage advanced case management and compliance services.
3123 : P8 BPM Integration with CM8
Abstract:  P8 BPM has been deeply integrated with CM8. This session will outline how that integration was achieved, and how P8 BPM can be used with CM8. This will include the extensions made to CM8 to enable Active Content, and the direct integration with the P8 BPM engine and tools. Also in how ECM widgets can be effectively used to achieve RAD for content/BPM application integration with other LOB applications.,
3124 : Information Lifecycle Governance and Trusted Information
Abstract:  Trusted Content, content which is authentic, reliable and trustworthy has a lifecycle and in today?s environment, it is important to properly govern it. IBM?s Information Lifecycle Governance (ILG) model provides the capabilities and a prescriptive approach for organizations to leverage in order to reduce the complexity, lower risks and costs, and deliver improved business agility as they manage their Trusted Content. Attend this presentation to learn about IBM?s offerings and what other customers are doing.
3133 : One single Access Point for any Business Interaction – FileNet in Portals
Abstract:  By running business processes, highly optimised and automated, companies can gain an advantage. Even though automation is always an objective for process designers, most processes require human interaction. For these human interactions, enterprise IT must provide role-based and intuitive user interfaces. WebSphere Portal provides a personalised, dynamic and Web 2.0 based portal interface to surface business processes based on IBM FileNet or other process technologies. This session introduces architectures, tools and approaches to integrate IBM Filenet in IBM WebSphere Portal to increase user satisfaction and improve return on investment. A live Demonstration shows the technologies in living colors.
3139 : DMS Document Management System at Poste Italiane
Abstract:  Implementing a Document Management infrastructure which has the scope to satisfy the needs of both the main and branch offices, allowing for a large number of people to contribute to create and share stored documents, increasing the effectiveness of communication between users, improving the efficiency in the operational activities and, more generally, the support of achievement of business objectives of the Company.
3144 : Records Federation or Collection: Make the Right Decision
Abstract:  Organisations are confronted with managing electronic records generated from a multitude of electronic record making systems including multiple content management systems, collaborative systems, messaging systems, social networking systems, and business applications. Not all systems are suitable for a records repository. This session provides a framework for organisations to objectively make a structured decision to manage the records in place (Records Federation) or to collect them into a central repository.
3168 : ECM Second Generation Architecture @ Zurich
Abstract:  Zurich Financial Services uses IBM FileNet to deliver ECM capabilities for a wide range of business units and countries and has implemented the infrastructure as a shared platform. Join this presentation to benefit from the experience made by ZFS over the past years and learn about the rapidly scalable and forward thinking approach which has been develop as a result. The presentation will cover the architecture ZFS initially started with, describes the current implementation and lines out the model planned for the future. It will be presented by the Zurich Lead ECM architect.
3169 : New implementation to enlarge services that ECM deliver inside the bank
Abstract:  MPS manages from a long time, unstructured information by IBM Content Manager and IBM Content Manager on demand via IBM Content Integrator; a new project based on INTERCOOP solution has been developed to allow management of Fax & SMS. The growth of volume (about half billion documents year on year) requested to implement a powerful system of 'Enterprise search' to improve the document handling. OMNIFIND solved the problem. Now MPS consider his ECM system not only very useful to manage internal processes but also the way to improve satisfaction to clients inside and outside the bank.
3213 : Leverage SPSS to Improve Your Business Process and Bottom Line
Abstract:  Businesses are rapidly looking to harness their business data to help them run their business. Are you doing that with your ECM solutions? Increase the value of your investment in IBM FileNet Business process Manager and your business competitive edge by leveraging SPSS. Understand the capabilities of SPSS and how you can leverage it and Process Analyser to create better business intelligence. Learn how to use SPSS to dynamically add business control to your process and understand how it can help optimise your business process and improve your bottom line.
3214 : Troubleshooting IBM FileNet CM and BPM: The Art and the Science
Abstract:  This is a technical session covering some of the most common issues that clients encounter with IBM FileNet Content Manager and FileNet Business Process Manager deployments. Using real-world examples, we will cover problem identification, characterisation and resolution. This session is intended for attendees who are focused on maximising uptime, improving product knowledge and optimising time to problem resolution.
3215 : IBM Enterprise Content Management Products: Engineering Roundtable
Abstract:  This session will start with a short introduction of some of the core new Content Manager and Business Process Manager features will be discussed. The balance of the time will be an open Q&A session where customers can ask questions directly to key technical leaders on the IBM Enterprise Content Management product development team.
3216 : Reduce Your Time to Production Using IBM FileNet P8 4.5.1
Abstract:  This session will highlight changes made to IBM FileNet P8 4.5.1 that were specifically designed to reduce your time to production, and simplify the overall product deployment process. Specific examples include substantial improvements to the product installation process and to the application deployment capabilities.
3217 : Designing your P8 System: Best Practices and Ideas
Abstract:  This session will focus on customers and partners looking for guidance on how to best design their IBM FileNet P8 deployments. Topics will include distributed deployments, virtualisation, performance, and high availability.
3241 : IBM Optim Data Redaction: Openness and Privacy for Regulatory Compliance
Abstract:  IT organisations are under increasing regulatory and business pressure to protect sensitive information in their document repositories, while simultaneously opening up and sharing information with stakeholders. The Optim Data Redaction product, newly released in 2010 and already successfully deployed at a leading insurance company, is designed precisely to resolve these contradictory requirements. It uses industry-leading entity-extraction, along with advanced image-processing, to find sensitive information in free-text documents and in forms. A Web GUI allows reviewers to refine the automated redaction. Integration with IBM systems such as Content Manager lets it work seamlessly in existing enterprise environments.
3290 : Transform your Customer Support Experience using the new Support Portal and Tools
Abstract:  Go Beyond the traditional support model. The new support portal provides a unified, centralised view of all technical support tools and information for all IBM systems, software, and services. You can customise your own profile and get immediate access to all support informations relevant to help you preventing and solving your technical issues. Furthermore, with the IBM Support Assistant tool , a complimentary software offering which provides you with a workbench to help you with problem determination, you'll be prepared for self-analysis and diagnosis of problems and faster time to resolution.
3328 : Creating Complex Documents Efficiently: Xopus, XML, DITA, and ECM
Abstract:  Rapid and efficient team collaboration is the key to meeting constantly changing market conditions and urgent deadlines. Xopus's lightweight web based DITA (Darwin Information Typing Architecture) solution reduces author training and software maintenance costs through its easy to use browser interface. Integration with FileNet P8 enables workflow efficiency and consistency. In this hands on lab, use a web browser to access Xopus's WYSIWYG XML editor to collaboratively create documents and publish them in multiple formats, tracking changes, and navigating approval processes. Now your team concentrates on creating content, rather than following processes!
3386 : A Practical Approach to Delivering Case Management Solutions
Abstract:  IBM offers an array of capabilities to build robust Case Management solutions. How do you bring the right elements of the IBM technology to deliver value to your end-users? In this session, Vega ECM – one of IBM's business partners – will discuss how best to leverage some of the key technologies from IBM to deliver a high-value solution for your organisation. We will show you how Vega ECM leveraged IBM Filenet BPF case model and created a set of Widgets that provide access to Inbasket, Case, Forms, and other case management concepts. We will also share some of the tips & tricks that will help you with your own case management initiatives.
3420 : What is New for IBM ECM Customers
Abstract:  In this session, you will hear about the latest and greatest on IBM ECM products. This includes brand new products as well as new capabilities in existing products such as FileNet P8, IBM Content Manager, CM OnDemand, as well as Compliance and Analytics suites.
3435 : FileNet Content Manager: Managing an Upgrade From 3.x to 4.x
Abstract:  This session will provide planning recommendations for deploying and upgrading to the IBM FileNet P8 4.5 release. Discussions will include documenting system parameters, upgrade plan development, software installation & configuration, and functionality testing.
3437 : FileNet Content Manager – Developing Custom Applications
Abstract:  This session will highlight the P8 development APIs and offer best practices when developing your custom applications.
3442 : FileNet Integration for Microsoft Office 2007 and WorkplaceXT Product Updates
Abstract:  This session will do a deep dive into both the FileNet Integration for Microsoft Office 2007 feature set as well as the new WorkplaceXT features introduced in 2009. . For FileNet Integration for Microsoft Office 2007, learn about new features and capabilities introduced in 2009 and the latest 2010 release. For example, see how we have integrated BPM document approval into the Microsoft Office 2007 UI paradigm. For WorkplaceXT, see how we have provided more efficient ways to work with and manage multiple documents during various document management scenarios such as; add, check-out, check-in, download and modify properties.
3443 : IBM Content Manager OnDemand Update
Abstract:  Come to this session to learn about recent releases of Content Manager OnDemand and a demonstration of the latest features.
3444 : Storage Options for FileNet Content Manager
Abstract:  This session will be covering best practices and operational procedures around storage options for FileNet P8 Content Manager, with focus on the new Tivoli Storage Manager integration with P8 4.5.1. Not only will you learn about options for configuring Content Engine and Fixed Storage Areas for high ingestion rates in Protected Storage Devices, you will get a technical understanding of the storage infrastructure and options available for FileNet P8 Content Manager, and how IBM Tivoli Storage Manager can help manage storage tiers.
3446 : Master Content for MDM- Delivering Trusted Information
Abstract:  With the introduction of the integration of FileNet Content Manager and Infosphere Master Data Management Server, organisations can deliver a complete and trusted view of information. This session will enable you to understand how your enterprise content can be leveraged to give you a comprehensive view of customer, partners, suppliers and citizens.
3447 : What is New for IBM FileNet Content Manager
Abstract:  Come to this session to find out what's new with IBM FileNet Content Manager including Workplace XT, Microsoft Office integration and component based information development using DTIA.
3451 : What is New with IBM Content Manager Version 8
Abstract:  This session provides an overview of the latest features and capabilities added to or integrated with IBM Content Manager Version 8 as well as a high level view of what's coming next on the product roadmap.
3453 : Integrating an External Application with IBM Content Manager Version 8
Abstract:  Wondering how to get your application to integrate with IBM Content Manager Version 8 (CM8)? How to write your custom Event Handler so that events in CM8 will notify your application? Come to this session, you will be able to see how to a custom event handler could be developed to accomplish this task.
3455 : Delivering better business outcomes with IBM FileNet BPM 4.5.1
Abstract:  In the current economic climate, organisations are seeking for new ways to stay competitive and deliver better value for their customers. Leveraging the latest capabilities from the IBM FileNet BPM offering can provide significant cost savings while focused on the business goals. In this session, we will explore the latest capabilities of IBM FileNet BPM 4.5.1 and discuss how they can be leveraged to solve real world problems.
3456 : Demystifying Case Management
Abstract:  What is case management? Do I have a case management problem in my organisation? What technology should I use to solve my case management business problem? Case management is an old concept that is gaining renewed interest in various industries. In this session we will focus on understanding common aspects of a case management problem and discuss technology options available from IBM to address those problems.
3459 : Integrating SharePoint with IBM ECM
Abstract:  SharePoint deployments are complicating content management at many enterprises due to lack of controls. Furthermore, large amount of information assets are difficult to manage using the storage mechanisms inherent to SharePoint. Learn how IBM ECM can help and how to integrate SharePoint with your ECM.
3474 : Virtualise, Organise, Revitalise – ECM on Linux and Z's to Save Time, Budget and Trees
Abstract:  Ball State deployed IBM Content Manager and CM On Demand, utilising TSM on the back-end, to replace an existing CM system and bring ECM efforts into the future. To maximise the efficiency/capacity of existing equipment, rather than adding additional servers, virtualised instances were created on an LPAR, then existing processors used to run Linux without incurring additional MIPS overhead. The main areas covered: Architecture/considerations for virtualisation On Demand – examples of cost/time savings from real experience, w/design suggestions Content Manager – examples of improvements in image processing, w/lessons learned To the future – data improvement/rejuvenation, on-going experimentation (Lotus Quickr Connectors, etc.)
3481 : Optimise your Business Processes – Behind the Frontiers of Content Centric BPM
Abstract:  In any ECM environment content centric processes are day to day business: as far as content is strongly related to processes IBM offers with FileNet BPM an integrated solution. But what will happen if process scope increases and typical integration requirements will become the focus? This presentation shows when and how to integrate with WebSphere BPM. The synergies and challenges of this integration are discussed. Finally we are proud to present a typical business case in a life demonstration.
3561 : Integrating Lotus Quickr with IBM ECM (P8/CMv8) – Benefits and How to Do It
Abstract:  Lotus Quickr provides easy-to-use front-end for IBM ECM Systems. In this session we will first cover some typical business cases and rationale for the integration. We will review the integration architecture and map the business cases into implementation scenarios based on the architecture. We will also cover the differences between CMv8 and P8 integration as well as common prerequisites for each platform. The presentation will be completed with questions and answers session to give the audience more detailed information on any open details.
3566 : Unified Content Archiving with IBM FileNet & IBM Optim
Abstract:  Structured and unstructured content archiving with IBM FileNet portfolio and IBM Optim product – Building a universal base of archiving – Address compliance needs – Provide research-friendly data and documents
3577 : Citi's IBM FileNet Platform for EMEA – Operating an IBM FileNet System as a Shared Service
Abstract:  Citi is operating an IBM FileNet P8 system as a shared service for Citi subsidiaries across 16 different countries in EMEA. Citi?s IBM FileNet System has started as an archiving solution in 1996 and has grown into a P8 Business Process Management platform used by more than 5000 users in various different business units across EMEA today. The Session will provide an insight into the operational model of handling an IBM FileNet system as an internal service provider, the project approach and an overview of the provided business applications.
3582 : The Critical Role of Customer Communications in Advanced Case Management
Abstract:  Recent analyst reports from Gartner and Forrester have highlighted the critical role of customer communications in advanced case management. In this session, we will explore best practices for customer communications and Advanced Case Management, featuring IBM and Thunderhead solutions. Specifically, we will discuss how effective and efficient customer interactions can transform case management and will demonstrate how Thunderhead and IBM ECM combine to provide a closed-loop solution that engages customers and constituents directly in the conduct of the case. This session will feature a live demonstration and IBM-Thunderhead case studies from insurance, financial services and government. A joint solution whitepaper will be provided.
3619 : Insurance Operation of the Future: A New Showcase for Filenet P8
Abstract:  The « Insurance Operation of the Future » (IOF) is a complex solution framework for the insurance industry, which is successfully marketed in a joint effort by IBM GBS and SWG in some European countries. Underpinning this framework with Filenet P8 enterprise process and content management allows to deploy solutions more quickly and with lower overall cost. Thus, IOF with Filenet P8 turns out to be an ideal combination for mid-size insurance customers. The presentation gives a tech sales explanation of this background and concludes with a demo of the P84IOF showcase.
3627 : Agile Solution Development for Large ECM Projects
Abstract:  Developing ECM solutions in an agile style promises both lower initial cost e.g. through shorter deployment cycles, and better maintainability for the solution elements. This presentation with hands-on demos and training shows how agile ECM application development can be extended to large solutions. It makes heavy use of the UML 2.0 standard and modelling tools such as Eclipse or Rational Software Architect, and demonstrates how workflow, class design, component and deployment models can be orchestrated to yield a powerful solution representation.
3717 : Best Practises for Content Manager OnDemand Administrators
Abstract:  This session will introduce Content Manager OnDemand (CMOD) Administrators to some of the Best Practises for the configuration, operation, and management of Application Groups, Applications, and Resources. Attendees will receive technical details on how to improve performance, maintain maximum flexibility, and preserve your sanity by avoiding common configuration problems.
3719 : Evolving P8 3.x Applications to the P8 4.x CE APIs and Environment
Abstract:  This session will cover both strategy and tactics for upgrading applications from the P8 3.x CE APIs to the use of newer P8 4.x CE APIs. Specific topics covered will include major benefits of the P8 4.x APIs, examples of how to re-code specific techniques from 3.x APIs to 4.x APIs, recoding EventActions, differences in extensible authentication for SSO, the roadmap for CE Web Services, and how to move an application forward to 4.x APIs in phases. Although the majority of the techniques will be specific to Java APIs, there will also be discussion of the COM API and CEWS. After this session, you will have the information you need to create a strategy for evolving your application, and you will have a feeling for the effort involved.
3726 : Building Solutions on the IBM FileNet P8 APIs, an Architect's Guide
Abstract:  The Content Engine APIs have undergone dramatic improvements in IBM FileNet P8 4.x. Powerful new APIs have been released, while upward compatibility for previous APIs has been maintained for most applications. Some of the APIs are more appropriate in specific situations than in others. This presentation describes the APIs available and provides information to help attendees choose appropriately among them. This session is aimed primarily at architects and others who are involved in the up-front decisions about implementation architectures.
3739 : FileNet P8 Authorisation Checks: Weapons, Tactics, and Odd Tales
Abstract:  P8 contains a rich set of features for controlling access to objects. A truly amazing number of different authorisation models are possible. Alice has full control of her documents and can read all of Bob's documents. Carol can read any released document. Ted has access to folders but cannot read any documents at all, including his own once they are checked in. We give an overview of access control mechanisms in P8 and move on to a series of popular authorisation models. We'll also cover some of the more unusual access control puzzlers we have seen in the field. The complexity of some of these may tempt you to run screaming from the room, but if you stay — if you dare! — you will hear how P8 can be used to implement them.
3749 : Migrating Data to or from Content Manager OnDemand
Abstract:  Corporate Mergers, Acquisitions, Consolidations, & Break Ups – all of them are a cause for headaches for the administrators of Content Manager OnDemand (CMOD) administrators. This session will describe strategies for migrating data into or out of Content Manager OnDemand (CMOD) with the maximum amount of speed and reliability, using real-world examples of how to do it right.
3763 : IBM eDiscovery: Best Practices to Cut Costs and Deliver Early Case Insight
Abstract:  The huge volume of electronically stored information (ESI), compressed response schedules and expensive discovery processes necessitate cost cutting, practical eDiscovery solutions. Learn about best practices for moving eDiscovery in-house, proactively managing ESI to reduce volume and gaining early case insight by leveraging IBM's leading eDiscovery solutions with new capabilities for quick culling, dynamic collection, and early case assessment. Companies are transforming their litigation responses with forward-thinking policies and technology solutions: attend this session to learn how you can apply the same strategies in your organization.
3781 : Deep Dive into Content Engine Security Identifier Update Tool for FileNet P8
Abstract:  The authentication mechanism in Content Engine (CE) uses Directory Servers. To determine if a given user has access rights on a CE object (like domain,obj store etc) CE makes use of entries stored in Directory Servers. If an organisation replaces its existing Directory Servers with new ones, the authorisation of existing users would fail even if the new Directory Servers have entries identical to those in old Directory Servers. This happens because CE uses ?Security Identifiers? (SIDs) to identify a user or group. Failure of authorisation makes CE unusable. To address the issue of the breaking down of authorisation mechanism of CE due to replacement of DS, an ingenious solution has been devised & implemented in a tool called SID Update tool
3827 : Ready, Set, Go! Create Actionable Business Insights with Trusted Content Analytics
Abstract:  Trusted Content Analytics enables you to know, trust and leverage your content, helping you reduce costs while generating actionable business insights. If you would benefit from being able to; 1) Dynamically analyse your content and make rapid decisions to cut costs and optimise storage, 2) Trust your content to create more complete 'single versions of the truth' for customers and citizens as required as part of master data management initiatives or 3) Learn how leverage your content and use it for predictive purposes to spot issues and trends that fall outside of normal business reporting channels – then come to this session.
3828 : Optimize Business Insights with Cognos Content Analytics
Abstract:  Get ahead of the curve with new business insight and optimization from unstructured and semi-structured content like documents, reports, emails, web pages and much more. Leverage IBM Cognos Content Analytics to expose trends, patterns, anomalies, and opportunities locked away in vast amounts of content and enable rapid and informed business decisions. Learn from our experts in the Text Analytics Group how they built comprehensive content analytics solutions to gain insight into key content-rich business processes and expose new understanding about your customers, markets, and operations. See how leading organizations are driving smarter business decisions from content, and how you can do the same.
Pour en savoir plus sur les autres sessions, suivez le lien …